Maui Surf Lessons and Stand Up Paddle Boarding
1.5 Hour Lessons
8:00 am, 10:00 am, 12:00 pm, & 2:00 pm Daily
All lessons include surfboard rental, reef shoes and UV rash guard shirts.

Group Surf Lesson – $75 per person
Five guests max. per instructor. Adults and kids 10 years old and over.

Semi Private Surf Lesson
Two or up to as many as 5 guests specified by you, with a private instructor. Adults and kids 9 years old and younger.
2 guests – $250
3 guests – $325
4 guests – $400
5 guests – $475

Private Surf Lesson – $175 per person
One-on-one with an instructor. Adults and kids 9 years old and younger.

Stand Up Paddle Board Lesson
Private – $175 per person
Semi Private of 2 guests – $250
Semi Private of 3 guests – $325
Semi Private of 4 guests – $400
Semi Private of 5 guests – $475

Surfboard Rentals
2 hours – $25 • Full day (8am – 5pm) – $35

Reserve Your Surf / SUP Lesson
Maui Surf Lessons
We specialize in beginner surfing lessons for ages 5 years old and up. Learn the Ancient Hawaiian sport of surfing in one lesson with our professional CPR and First Aid Certified Surf Instructors. We provide surf instruction and a water safety briefing prior to entering the ocean. Our small class size and the latest equipment insures our guests a safe and enjoyable experience. Our patient and friendly staff of instructors will give you the personal attention you need to stand up on your first time out. We are a fully insured State Certified Surf School. One and a half hour Maui surf lessons are offered daily at Kaanapali Beach. We're located at the Kaanapali Alii Resort – 50 Nohea Kai Dr, Lahaina, HI 96761.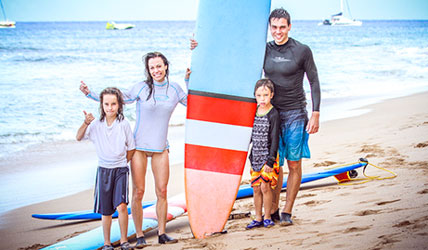 INCLUDES:
Soft top surf board
Protective rash guard
Booties (aqua socks)
Showers
Rest room
Changing room
Surf photography available
All packages and equipment rentals include complimentary water safety briefings.
Maui Stand Up Paddle Board Lessons

Experience one of the world's fastest-growing sports by taking a stand up paddle board lesson with Island Scuba & Surf School. Paddle boarding is not only fun but a great workout that combines strength, balance and flexibility. With expert guidance from our instructors, you can become very comfortable in the water and on your board within 1.5 hours. Enjoy Maui's ocean playground (including Hawaiian fish, sea turtles, whales and much more) as you glide across Hawaiian waters. Stand up paddle boarding is a versatile sport that can be enjoyed by all ages and skill levels.
Island Scuba & Surf School
Scuba: 808-868-8082
•

Surf School: 808-667-4608

•

Maui, Hawaii