Maui Sail & Scuba Diving
Private Charter on the Island Star Sail Boat
Half Day Sail & Scuba (4 hours)
Most Popular Trip including Whale & Dolphin Watching (when in season)
All private charters are $500/hr, minimum 4 hours.
Depart Ma'alaea Harbor for Coral Gardens or Olowalu, or any one of our local favorite snorkel spots. After an hour of sailing aboard the Island Star, we'll drop anchor near a beautiful reef, allowing for plenty of time to snorkel and dive while your crew prepares your lunch. Scuba on pristine coral reefs with an abundance of tropical fish, a variety of colorful corals and the endangered Green Sea Turtles. After breakfast and a hot lunch on deck, we set sail back to port.
Our boats have stable boarding ladders for easy access and restroom to ensure passenger comfort. It provides plenty of room for divers and their equipment. We provide detailed briefings at every dive site. Guests are always welcome to accompany our experienced instructor/dive guides — we make certain that there are always enough guides to provide everyone with plenty of personal attention.
We recommend this as a morning trip due to Tradewinds that tend to increase in the afternoons.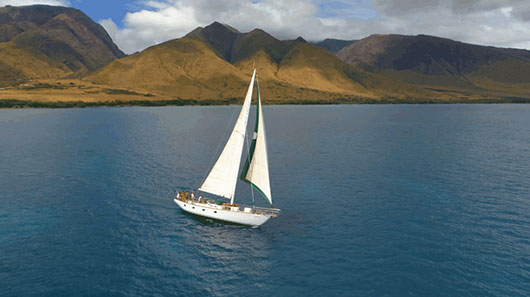 Reserve Private Sail & Scuba Charter
Molokini Crater
Molokini scuba diving is a must when visiting Maui. The world famous Molokini Crater, a marine reserve below water and bird sanctuary above, is our first destination on this scuba trip. The visibility on this reef system averages 100+ feet and provides a panoramic view of the marine ecosystem. Molokini is one of the few places in the world where you can see Hawaiian garden eels, Masked angelfish, Long-nose hawk fish and many more fish endemic to the Hawaiian Islands.
Frequently Manta rays, White tip reef sharks, Amberjacks and Moray eels are also sighted. Harlequin shrimp take residence around coral heads and Triton's trumpets and nudibranchs are found nestled in crevices.
*Please note, you must be a certified diver.
Turtle Town
Our second dive is Turtle Town and offers a reef formed on lava that flowed from Haleakala centuries ago. The caverns and ledges in the lava as well as the lava fingers nearing the surface create the perfect habitat for sponges, corals, octopus, fish, eels, and shrimp. The highlight of this reef is the number of Green Sea Turtles that gather here to be "cleaned" by a fish known as the Hawaiian Cleaner Wrasse.
The Green Sea Turtles are an endangered species and must not be touched or harassed. They are very curious animals and often allow snorkelers a good look from just a few feet away.