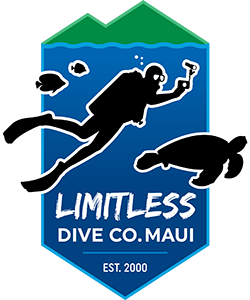 Maui Scuba Diving
Scuba dive the waters of Maui's famous beaches.
Reserve your tour with Limitless Dive Co. Maui today!
Maui Scuba Diving
Limitless Dive Co. Maui specializes in shore dives, beginner and advanced courses. Certified or not we have something for you, the possibilities are limitless! We want to share the beauty and wonder of our beloved home, the Valley Isle, with every single person that comes to visit. Call us today to book your diving adventure!
Limitless Dive Co. Maui offers ocean beach diving twice a day as well as introductory scuba diving lessons for beginners with our Discover Scuba Dive Program. Our ocean beach dives and dive lessons can take place at locations island-wide including Turtle Reef, Wailea Beach, Kahekili Beach, and Black Rock.
Become a certified diver by participating in our SDI scuba diving certification classes from the entry level course (Open Water Diver). Referral dives to complete any part of your certification class.