Maui Scuba Diving Sites & Scuba Dive Information
Beach Dives
Blessed with abundant marine life, healthy coral reefs and dramatic topography, Maui is an ideal destination for divers of all experience levels. For those who are not yet certified divers, these protected, calm waters provide a perfect environment for Island Scuba's Discover SCUBA Diving adventures. These programs are also a great choice if your group includes both certified divers and beginners who wish to dive together. Or, if you've already done the academic and confined water portions of a certification course, we also offer a great opportunity to complete your OPEN WATER TRAINING. And, while we specialize in underwater activities, we also offer snorkeling for those who prefer to remain on the surface. Night dives along the Southern and Western Maui coasts give certified divers the opportunity to see nocturnal reef inhabitants hunting, feeding or resting. Look carefully and you'll also see sleeping daytime reef animals.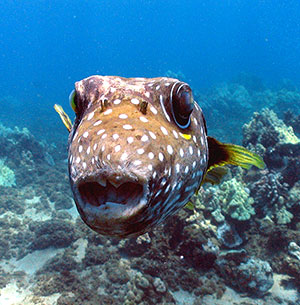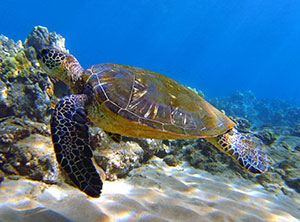 Turtle Reef
Located on the western shore of Maui, from Honolua bay in the north down to Thousand Peaks in the south, Turtle Reef is where the endangered Hawaiian green sea turtle live. If you want to see turtles up close and personal, this is the place. In addition to turtles, there are acres of corals and abundant marine life. Our two favorite turtles are Burt & Ernie. These two turtles are so accustomed to our dives that even first time underwater photographers can get excellent pictures.
Black Rock
Located on the west side of Maui, at the end of Ka'anapali Beach, a large black volcanic rock peninsula juts out several hundred feet from shore, providing a protective cove with excellent diving forthe certified diver as well as the beginner. The underwater terrain is mostly volcanic rock with an abundance of colorful reef fish, such as lemon butterfly fish, puffer fish, parrot fish, moorish idols and turtles. Black Rock is a great dive for those who do not want to spend the time on board a boat; it is also convenient for night dives.
The New Discover Scuba Dive Program
Within one-and-a-half hours of fun, safe and exciting instruction, you will be ready to go on a supervised Ocean Beach Scuba Dive. Space is limited so sign up in advance! No experience necessary! Daily pool lesson at 9:00 am. 1 Tank Dive at 10:30 am. Minimum 10 years old.
Ocean Beach Dives
One-and-a-half hour supervised dive for those who have completed the Discover Scuba Dive lesson, or for Certified Divers. Enjoy a colorful Coral Reef Tour just steps off the beach. 4 divers maximum per guide. Daily 1 Tank Dive 10:30 am at Wailea Beach. Daily 1 or 2 Tank Dives at 2:00 pm at Lahaina/Kaanapali.